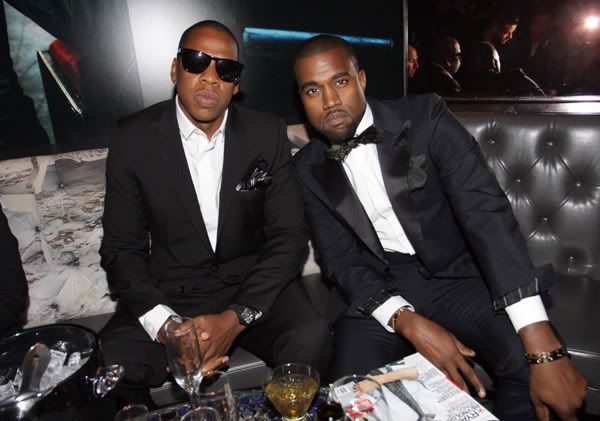 Jay-Z (left) & Kanye West (right)
Historically, Kanye West and Jay-Z have created some great and powerful music together. We've witnessed the duo deliver classics over soul sampled instrumentals that mostly featured Jay releasing an arsenal full of figurative speech that made it nearly impossible not to favourite.
It really is no surprise that they would release a collaborative album together, after all Kanye has a song that is dedicated to Jay-Z and their story together.
Kanye West - Big Brother
Watch The Throne is the name of the collaborative release and the title fits appropriately due to the fact that they are two heavyweights in the mainstream world, no scratch that, even in the underground world, listeners love these two artists. The first single is titled "H.A.M" and it is produced by Lex Luger, the man who produced Rick Ross's "
Blowin' Money Fast
" and Waka Flocka Flames "
Oh Let's Do It
".
Based on this first single, it seems like the album will feature Kanye West being assaulted and owned verse for verse on every single song. Right? Or maybe it's just because I'm a Jay fan and that is perhaps one of his best recent verses.
The instrumental becomes a nuisance after a while because besides the sample, it really offers nothing exciting or new. It features the same pattern as Waka's song and Rick Ross's. I wish they would of gotten back to their old formula, and messed with some soulful samples because that's really what mainstream needs and what fans really fell in love with. It feels like they are desperately trying to follow a trend but what they fail to realize is that they were and still are the trendsetters. People would like their song regardless of what the song was based on the simple fact that it's Kanye and Jay.
None the less people will adore this song and it will make a lot of noise on the radio and the clubs. I guess it's like Jay said "N***** want my old s*** buy my old album."